Rocco's Sprinter Repair
Atlanta Fleet Van Mechanic 770-795-7575
At Rocco's Atlanta Sprinter Repair, we are experts in diagnosing and repairing all models of Sprinter Vans, including Dodge, Freightliner, and Mercedes. Our professional Sprinter technicians offer top­-notch, efficient, and affordable solutions for single vans or entire Sprinter fleets in the Atlanta area.
Our customer service specialists and highly experienced Sprinter technicians provide industry-­leading preventative maintenance and repairs. We also offer full line of new and used parts for your Dodge or Mercedes Sprinter Van. Based in Marietta, we serve fleets in the metro Atlanta area, including Cobb, Gwinett, Fulton, and Dekalb counties.
Specially Trained for Quick Sprinter Repairs
Sprinter vans are unique vehicles that require special education to repair. Our technicians are trained to work on Sprinters, so we are able to quickly and efficiently diagnose problems and conduct repairs. You waste enough time in Atlanta traffic - you can there is no time wasted on researching a breakdown at Rocco's Sprinter Repair. Our experienced technicians have likely encountered the same problem before in another van and can diagnose it quickly. We have many used and new parts in our inventory, we typically do not have to wait for a part to be shipped from a distant warehouse. This means a faster repair so your Sprinter is back serving your customers as soon as possible.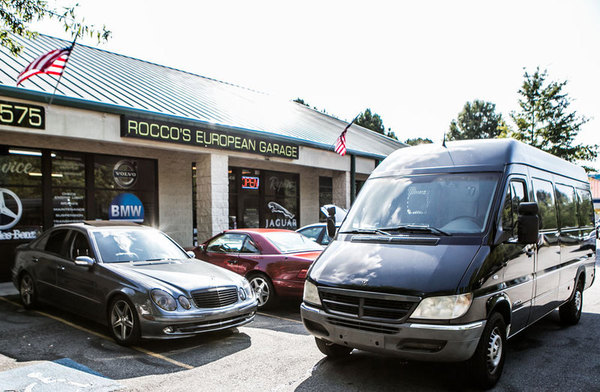 Sprinter Maintenance: Oil, Fluids and More
The best way to keep your Sprinter vans on the Atlanta roads is to prevent problems before they arise. We suggest establishing a preventative maintenance schedule for each of your Sprinter vehicles, so they receive the necessary fluids, inspections and changes on a regular basis. A little bit of prevention can go a long way in keeping your Sprinter fleet healthy and ready to serve.
Typically, Sprinter vans require an oil change about every 3,000 to 5,000 miles, but this depends on whether you choose standard, premium, or high-mileage oil, and whether you are driving for long distances at a time, or short quick delivery trips. By discussing your driving habits withour Sprinter technicians, they can accurately establish a good routine maintenance schedule for oil changes and other services. Our Sprinter experts will answer any questions you might have about recommended service frequency and which products are best for your specific needs.
Sprinter Van Brake Repair
The brakes on Sprinter van fleets can take quite a beating, especially with the stop-and-go nature of delivery and service driving in a busy city like Atlanta. At Rocco's, we understand this wear and tear and are prepared to install the best brakes at the best price. We provide the best brake pads and other parts to suit your business needs.
Sprinter Alternator Replacement
Alternator failures are among the reasons that your Sprinter engine might growl or whine, but it's not always straightforward, and diagnosing a faulty one can be tricky. When your Sprinter vehicle stops working, it can be difficult to know whether the alternator is bad or the battery is dead. Leave it to our Mercedes Sprinter repair team to affordably troubleshoot any and all problems associated with engine starting, dashboard indicator lights, or your vehicle losing power. We can also check and charge your Sprinter battery to avoid any last-minute troubles.
Sptiner Fuel Injector Replacement
Though technologically advanced, Sprinter vans still take quite a bit of fuel. If your fuel costs have risen with no explanation, perhaps your Sprinter has a faulty fuel injector or other fuel-system troubles. The specialists at Rocco's garage can pinpoint the trouble and recommend whether your injectors should be fixed or replaced, or if there are other troubles in the fuel system. A few pennies saved on fuel will add up in the long run.
Shocks and Struts Replacement
Because Sprinter vehicles are made to transport groups of people and to carry heavy cargo all around Atlanta, your Sprinter's suspension system is especially important – to both the comfort and safety of your ride. Unintentional swaying, swerving, and bumpiness are never normal. Our experienced Sprinter technicians will know whether your struts and shocks need replacement or service, and they will never oversell. Your safety is our top priority, and we pride ourselves on providing inexpensive but successful solutions.
Drive Belt Replacement
Drive belts are essential to the function of your engine. Whether you have questions about a frayed or cracked belt or would prefer that an expert take it from the top, at Rocco's we have the parts on site, the experience to help, and the motivation to please. For the safety of you and yours, and to prevent breakdowns that result in real losses for your company, leave engine service and repairs to the experts.
Sprinter Van Engine Repair
Any number of things can indicate that your Sprinter's engine needs service – from dashboard warning lights, rough starting or running, sluggish performance, poor gas mileage, and many other less obvious symptoms. Whatever is ailing your Sprinter van, we want to help.
Some common client concerns include but are not limited to:
Stalling when hot
Fluid leaks
Failing to start after refueling
Poor fuel economy
Oil pressure port issues
Vibrations at high mph
Excessive oil consumption
From hose inspections to turbo checks, our Sprinter technicians are well versed in manufacturer-recommended diagnostics, procedures, and solutions.
Sprinter Driveshaft Replacement
Unfortunately, Sprinter vans have been known to have driveshaft issues, such as loose cover plates, poorly tightened screws, and more. Detaching parts can cause harm to the gearbox housing and result in oil leaks among other damage. Allow us to discuss your best options including Mercedes & Dodge OEM parts and top-notch aftermarket replacements.